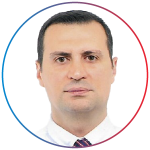 Dr. Usama Al-Kanani
Pediatric Emergency Medicine Attending Physician
Clinical Lead for Disaster Medicine
Sidra Medicine
Clinical Emergency Medicine and Clinical Pediatrics Instructor
Weill Cornell Medicine
Qatar
Dr. Usama Al-Kanani, born in Baghdad in 1977, earned a medical degree from the Baghdad College of Medicine in 2001. He pursued his residency in various locations, including Baghdad, North London, Kent, Nottingham, and Bristol. Dr. Al-Kanani successfully completed membership and fellowship training in Emergency Medicine, with a subspecialty in Pediatric Emergency Medicine, in London in 2018.
Dr. Al-Kanani furthered his qualifications by obtaining a diploma in Pediatric Emergency Medicine from the University of Edinburgh and a Master's degree in Medical Toxicology from Cardiff University. In addition to his Emergency Medicine practice, he serves as the Clinical Lead for Disaster Medicine in Sidra and is an instructor for PALS and ACLS. Dr. Al-Kanani also imparts his expertise in procedural sedation, regional blocks, and POCUS. He holds the esteemed position of a Royal College and Qatari Emergency Medicine Board Examiner.
At the present time, Dr. Al-Kanani holds the role of a Pediatric Emergency Medicine (PEM) attending physician at Sidra Medicine and is affiliated with Weill Cornell Medicine – Qatar, where he serves as an Instructor in Clinical Emergency Medicine and Clinical Pediatrics.