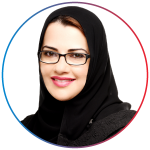 Dr. Sawsan Al Madhi
Advocacy Advisor
CEO & Founder
AlignnEficient Health Consultancies
UAE
Dr. Sawsan A. S. Al Madhi is a professional healthcare Leader and Consultant, Advocacy Advisor, Entrepreneur, honor class master's degree holder and an MD with more than 20 years' progressive leadership experience and skills in strategy, governance, operations and administration within the civil society, not-profit charitable sector, advocacy and public health education & promotion within UAE and internationally.
Other areas of expertise include: public speaking and academia. Currently she is the founder and CEO of AlignnEficient Health Consultancies a niche social enterprise working with multi stakeholders to push the agenda of advocacy on a local, regional and global level while focusing on patient's centricity and meaningful engagement of the patient's voice.
Previously working in one of the most reputable charities in the UAE as the Director General for Friends of Cancer Patients, Dr. Sawsan's role was to supervise the continuing refinement and expansion of the organizational objectives which include: providing high quality services, organizing fundraising activities, developing, planning and executing nationwide awareness programs and campaigns through collaboration with a vast network of national and international, governmental and private sector organizations, pushing the advocacy agenda on NCD's and working on feasible patients acess to treatment solutions.