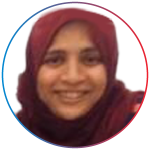 Dr. Sadaf Sheikh
Emergency Physcian
Fujairah Hospital
UAE
Dr. Sadaf Sheikh is a skilled emergency physician hailing from Pakistan. She has successfully concluded a five-year residency in Emergency Medicine at Aga Khan University Hospital, Pakistan. In addition to her medical training, she has achieved a master's degree in bioethics from the University of Toronto, Canada. Dr. Sheikh is actively involved in research and has undertaken multiple research projects throughout her career.
Dr. Sheikh has shared her expertise through published works, including a book on POCUS (Point of Care Ultrasound) available on Amazon and another on emergency orthopaedics accessible on Smashwords.
Presently, Dr. Sadaf Sheikh serves as an emergency physician at Fujairah Hospital in the United Arab Emirates.