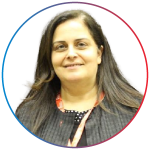 Dr. Mona Osman
Assistant Professor of Family Medicine
Medical Director of the Family Medicine Clinics
Director of the Fellowship in Primary Care Sports Medicine
Department of Family Medicine
American University of Beirut (AUB)
Lebanon
Dr. Mona Osman El Hage is an Assistant Professor of Family Medicine, the medical director of the family medicine clinics, the coordinator of community and outreach activities, and the director of the fellowship in primary care sports medicine in the Department of Family Medicine at the American University of Beirut (AUB). She is also the Director of University Health Services and the Co-Director of the refugee health program at AUB. Dr. Osman is the Head of the Training Committee of the Scientific Council of Family Medicine at the Arab Board of Health Specializations, leading the implementation of the regional professional diploma in family medicine. She is WONCA-EMR treasurer and the President of the Lebanese Society of Family Medicine.
Dr. Osman has a Master in Public Health, a Master in Business Administration, and a Master degree in Medical Education for Healthcare Professionals. She is also a Diplomate of the International Board of Lifestyle Medicine.
Dr. Osman founded the CHAMPS Fund: The Hicham El Hage Program for Young Hearts & Athletes Health in memory of her son Hicham, to help save the lives of youth from sudden cardiac arrest.