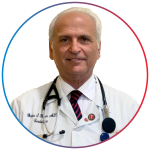 Dr. Ghassan Kiwan
Senior Consultant Cardiologist
Chairman Internal Medicine Department
Bellevue Medical Center
Lebanon
Dr. Kiwan started medical school at the French Faculty of Medicine (FFM) in Beirut then graduated from Paris University-France with a Medical Doctorate-MD- then did his internship and started his Fellowship in Internal Medicine at Sherbrooke University-Quebec-Canada. He continued, trained and completed his Fellowship and Board Certification in Medicine and Adult Cardiology at "McGill University" Montreal-Canada. He holds an MBA -International Paris- from Sorbonne, Dauphine (Paris-France) and St Joseph (Lebanon) Universities.
He was Associate Cardiologist at The Montreal General Hospital-McGill University- and Chief Cardiology for several years at "Centre Hospitalier De Lanaudière" affiliated teaching University Hospital (more than 1000 beds) in Quebec-Canada- He is an Honorary Member for life at the same hospital where he was a Co-founder of a community organization: "Un Coeur Pour Tous", dedicated for cardiac patients support.
Dr. Kiwan was Principal Investigator and Investigator in many National Canadian and International studies (DIG, HOPE, RESOLVED, PRISM, CTAF, COLCOT etc) published in several prestigious medical journals (JACC, Circulation, NEJM, etc..). He continues to be involved in clinical research by being local and national PI of international studies in Lebanon. He received an Award from Saudi Aramco
Health Organization (SAMSO) for his services as Consultant Cardiologist and in Charge of the Non-invasive Cardiology Laboratory, where he introduced and organized the Stress Echo and Contrast Echo techniques as well as Trans-Esophageal echo.
He was Chief of Medical Staff at "Bellevue University Medical Center" in Lebanon from 2009 to 2018, a JCI accredited 150 beds hospital. He is Past-Chief of Cardiology Division (2009-2022) at BMC (Bellevue Medical Center) and Nominated Chairman of Internal Medicine Department at BMC (2022- ) and is a Founding Director of the BITC-Bellevue International Training Center /American Heart Association.
Dr. Kiwan was the Past President of the Medical and Executive Committee for 12 years at BMC Associated University Teaching Hospital.
He is a Member and President of different Committees at BMC (Ethics, IRB, Resuscitative, Pharmacology, Medical Board, Quality).
He is the Past Chairman of the Non-Invasive Working Group at the Lebanese Society of Cardiology-LSC- for 3 mandates). He is a Co-Founder of the 'Lebanese Chapter of the American College of Cardiology" and is currently Governor of this Chapter.
He is the Founder of the Arab Resuscitation Council in Lebanon and Co-Founder
of the ArRC in Dubai-UAE-.
Dr. Kiwan has been and continues to be involved in many National and International Conferences (ACC-USA, ASE, ESC, CardioAlex, LSC, ACC Regional Middle East, etc….) as a Speaker, Chairman and Member of many scientific committees and co- organizer.