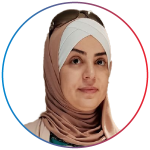 Ala'a Al Amiry
Lecturer
College of Pharmacy and Health Sciences
Ajman University
UAE
Mrs. Alaa Al Amiry holds a MS in Emergency Health Services (EHS), from Maryland University, Baltimore County (UMBC) USA, and an MBA from Strathclyde Business School (SBS), UK. She has evident diverse experience in both healthcare and academic industries in many countries including Jordan, Saudi Arabia, USA, and UAE. Her collective work experience counts to 17 years, during which she gained a great insight into capacities for improving work environment, as well as potent soft skills necessary for excellence. She co-chaired a number of strategic committees, among other tasks.
Mrs. Al Amiry has quality publications in SCOPUS-raked journals, and two international research awards. She completed an online course form Harvard University on "Global Health Delivery".
Under her capacity as a lecturer at Ajman University, she teaches First Aid as a university requirement, and believes in transforming her students into responsible citizens that have the capacity and resilience at times of emergencies. She is a certified AHA instructor (BLS), a paramedic by certificate, a nurse by experience, and an academic by profession. Most importantly she's a mom to an 8-year-old Nuwar, and currently resides in the UAE.