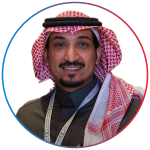 Kharsan Al-Makhalas
Executive Director
Medical Transport Shared Services
Ministry of Health
KSA
Experienced in the governmental sector, with passion for change management, strategy and organizational excellence. Throughout my career I have developed experience regarding, workforce planning and development, strategy planning, project management, process management development and business models.
Enthusiastic of making a positive and dynamic change utilizing scientific approach,
best practice and years of experience in the fields of health sector, management and
academic.