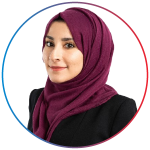 Dr. Zainab Alqudah
Assistant Professor (Paramedic Program)
Applied Medical Sciences Department
Jordan University of Science and Technology
Jordan
Dr. Zainab Alqudah is an accomplished professional with a diverse background in academia and paramedicine. Currently serving as an Assistant Professor in the Faculty of Applied Medical Sciences at Jordan University of Science & Technology (JUST) since October 2022, Dr. Alqudah has made significant contributions to the field of Paramedicine.
At JUST, Dr. Alqudah plays a pivotal role in coordinating theoretical and practical courses for paramedic students, organizing community initiatives, and supervising internship programs in hospitals. Also, collaborates with health organizations, conducts research projects, and delivers short courses on paramedic skills to medical students and the community.
In addition to her role at JUST, Dr. Zainab serves as an Adjunct Lecturer at Monash University, where they continue to enrich the education of aspiring paramedics. Prior to this, she worked as a Research Assistant at Ambulance Victoria, focusing on cardiovascular patient care.
Dr. Zainab is not only an educator but also an active researcher with expertise in the conduct of prehospital emergency care and resuscitation research. She was recognized with numerous awards for her contributions and published several research in Q1 journals, including Resuscitation and BMJ. She holds several certifications in emergency medical care and has a rich history of community involvement and training. With an impressive academic record, she is a dedicated professional committed to advancing the field of paramedicine and healthcare.