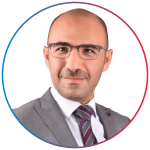 Dr. Tarek Hazwani
Assistant Professor
Pediatric Intensive Care Consultant
Simulation Educator
King Abdulaziz Medical City
Ministry of National Guard Health Affairs
KSA
Dr. Tarek Hazwani is a Pediatric Intensive Care Consultant at King Abdullah Specialized Children's Hospital in Riyadh, KSA. In addition to his clinical work, Dr. Hazwani is an esteemed Assistant Professor of Pediatrics at King Saud bin Abdulaziz University for Health Sciences. He completed his program in Simulation Education at Bryan College of Health Sciences, USA, and chairs the Pediatric Simulation Education & Training Program, where he leads many quality projects. Dr. Hazwani's areas of expertise include simulation education for both postgraduate and undergraduate students.
Dr. Hazwani is an active member of several professional societies including the International Pediatric Simulation Society (IPSS), Saudi Society for Simulation in Healthcare, and International Network for Simulation-based Pediatric Innovation, Research, & Education (INSPIRE). These affiliations reflect his commitment to staying at the forefront of his field and providing the best possible care to his patients.
Beyond his professional endeavors, Dr. Hazwani is an engaged member of his community and participates in initiatives such as Riyadh walkers. With a track record of excellence in both clinical and academic pursuits, Dr. Hazwani is a sought-after expert in his field and a trusted source of care for pediatric patients with critical care needs.