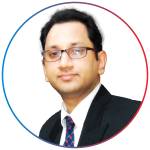 Dr. Rashid Aqeel
Emergency Physician
Aga Khan University Hospital
Founder of "Zindagi Bachao" (Save Lives) Campaign
Pakistan
Dr. Rashid Aqeel is a highly experienced and dedicated Emergency Physician based at the prestigious Aga Khan University Hospital in Karachi, Pakistan. With a strong commitment to improving disaster preparedness and response, he has acquired a wealth of expertise in the field of trauma, disasters, and humanitarian assistance.
Dr. Aqeel is not only a medical practitioner but also a visionary leader. He is the founder and lead training physician of the groundbreaking "Zindagi Bachao" (Save Lives) campaign initiative. This innovative campaign is the first of its kind in Pakistan, designed to engage and educate the public on disaster preparedness, with a primary focus on raising awareness, motivation, and public readiness to save precious lives. One of the foundational components of this initiative is the training provided on life-threatening bleeding control using readily available resources.
Dr. Aqeel's commitment to humanitarian service is further exemplified by his voluntary work during the 2005 Kashmir earthquake, which remains the deadliest earthquake in South Asia. His experiences in the wake of this tragedy have shaped his dedication to disaster preparedness and response.
In terms of his qualifications and training, Dr. Aqeel holds an MBBS degree and has completed specialized training in Emergency Medicine. He also holds a master's degree in Trauma Sciences with a focus on both military and humanitarian aspects from Queen Mary University of London. In addition to his academic achievements, he has pursued advanced training in Disaster Management and Humanitarian Response, with notable coursework completed at esteemed institutions such as the London School of Hygiene & Tropical Medicine in the UK, and Harvard and Johns Hopkins Universities in the USA.
Dr. Aqeel brings over 12 years of invaluable teaching and training experience to his field of expertise in trauma and disaster management. He has introduced pioneering "Simulation-based Trauma Resuscitation and Disaster Management" training courses in Pakistan. These courses are designed to equip medical students, healthcare professionals, ambulance staff, and the general public with the skills and knowledge necessary to save lives during critical situations.
Dr. Rashid Aqeel has had the privilege of serving as a distinguished speaker at numerous national and international medical conferences. He is actively seeking international collaborations with like-minded professionals who share a common objective: the preservation of precious lives. Dr. Aqeel's commitment to enhancing preparedness and his pioneering "Zindagi Bachao" (Save Lives) campaign make him an ideal partner for collaborative endeavors with organizations, institutions, and individuals worldwide. His vision and passion for saving lives serve as a catalyst for meaningful international cooperation in the pursuit of a safer and more resilient world. (https://twitter.com/traumatrainer)